Premier Door & Window Automation Systems.
THE PEAK
The Peak is our flagship motor moving a majority of the systems we automate. With 82lbs of torque, we're moving 6 to 8 panels depending on panel size and manufacturer.
Peak Motor Specifications
Motor Dimension – 4 X 7-1/2  X 18
Usage –  In-Line or Equal Bi-Parts
HP -1/10
Volts – 24 DC
Torque – 81LBS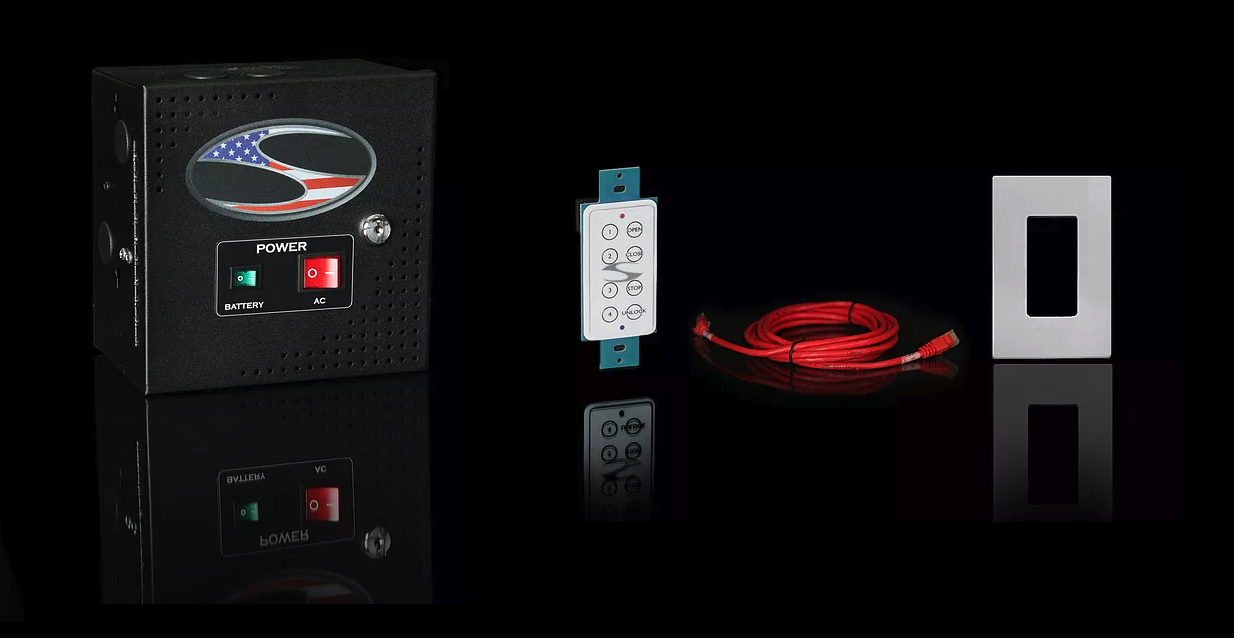 Control Box Specifications
Control Box Dimension – 7-1/2 X 7-1/2 X 4-1/2
UL Listed – 508A, 508C
Power Requirements – 110V/15Amp Dedicated Circuit
Plugs into a Standard Outlet with a 6′ Power Cord
Optional Built-in HardWire Connector
Amp Jumper from 4 to 8 Amps
Home Automation Connection – Dry Contacts
Battery Backup
Component Connection – RJ45
Key Control Box Features
Independent Forward & Reverse Speed Control
Acceleration/Deceleration Control
Ramp Down Speed Control
Eco Brake Software
Self Close Software
Auto Open Software
Manual Lock Detection
Two Step Safety Feature
Single "Super Cable" Communication
Maximum Distance From Motor – 100 FT
Touchscreen Kit
The high-resolution touchscreen replaces the standard interior switch with some style. The screen times out to black after 25 seconds and illuminates with a touch. Easily navigate through the system operation, special features, and diagnostic screens. The perfect upgrade with a sleek modern look.
Wave Sensor
When the auto-open feature is enabled, the system can be controlled by our new Wave Sensor. When you wave your hand across the sensor, the door will fully open, pause for 5 seconds, then close and lock behind you.
The Apex is for corner units or unequal bi-parts. Basically two peak systems with a communication cable toggling both control boxes to coordinate the open and the close. At 82lbs of torque per motor, we're moving 6-8 panels per side on a 90 degree or bi-parting system.
The Everest is our largest motor at 150lbs of torque moving massive door panels. The Everest is designed to move systems over 50′ in length and an unlimited amount of panels. Before Everest, any system over 50′ would have to be a bi-part, and you'd have to use two motors. Not anymore.!.
The FMS is our big retrofit motor perfect for concrete or post to post construction. If there's no room for the motor the FMS bolts directly onto the head track and is the perfect solution to any limited space installation issues.
Our Apex System on a big 90 Degree Fleetwood in LA.
Trusted Partners
We offer professional and certified installation
Request a FREE, no-obligation appointment with us!